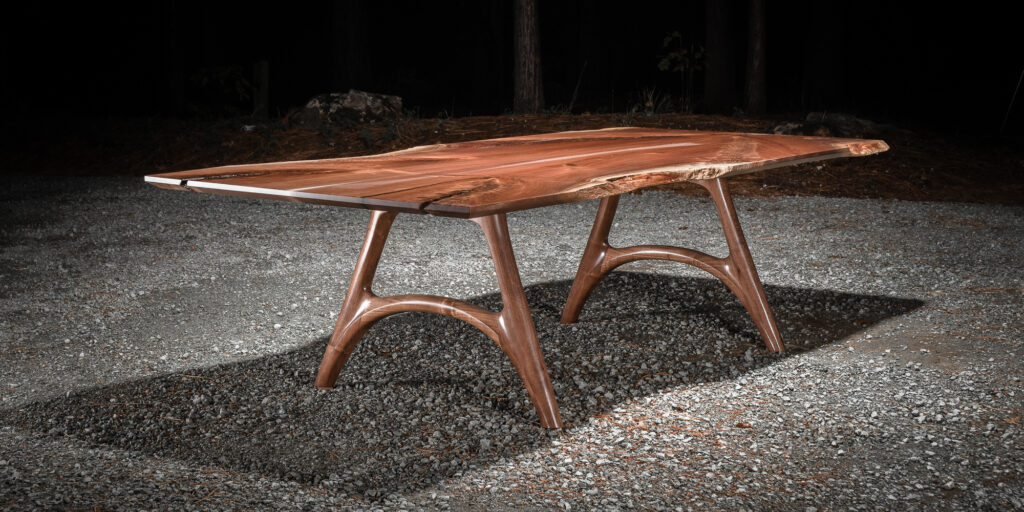 The new Wapiti Table in black walnut harvested from Grinnell College campus
Designing wooden furniture requires that you think like the tree. Trees constantly absorb and release water, expanding and contracting while they do so, and harvested wood will do the same. And the trunk of a tree is strong as it grows up and towards the sun because the tree needed to grow tall, but if you slice across the grain you lose all that strength.
This means that when you design with wood there are limits that you have to keep your eyes on at all times. Forget to account for seasonal movement of the wood and your beautiful tabletop can split in two. Or create a curve that cuts across the wood grain and you lose all of the natural strength of the tree.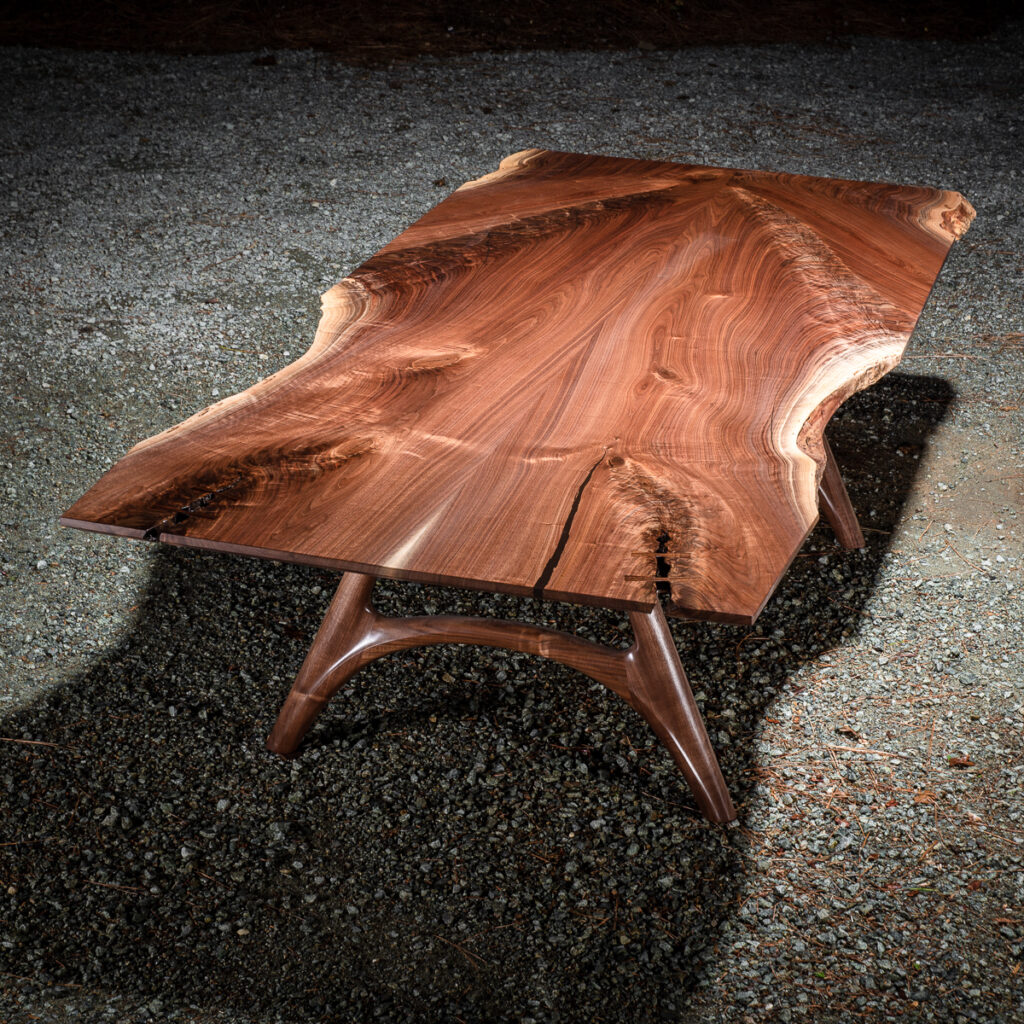 A crotch-figured bookmatch from black walnut is the focal point of the table

The inspiration for the Wapiti Chair and our new table, the Wapiti Table, comes from the shed antlers of elk and deer, some of which we find in the woods around our shop. These antlers branch, and where they branch the antler narrows down into a reinforcing web to create a light but incredibly strong shape.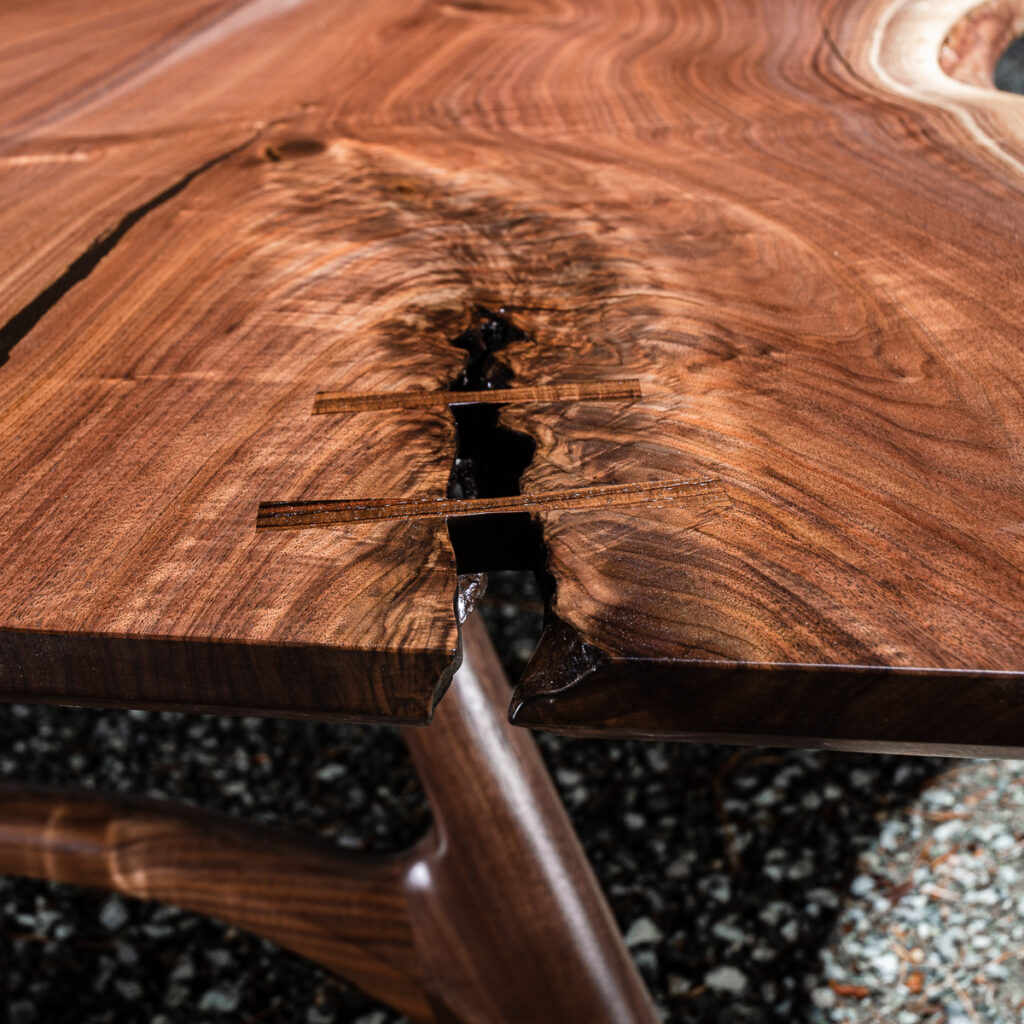 The large, naturally occurring cracks in the top of the table are stabilized with rosewood wedges as George Nakashima taught us
But when you try and replicate these sorts of shapes in wood you run into all the problems I described above. A deep curve can lead to a point of structural weakness. In order to resolve this problem we created a new system of joinery that involved creating precise templates using a CNC machine, joining together long pieces of wood using hidden tenons, and then creating hard lines that run through the finished piece, in part masking the division between the separate pieces of wood.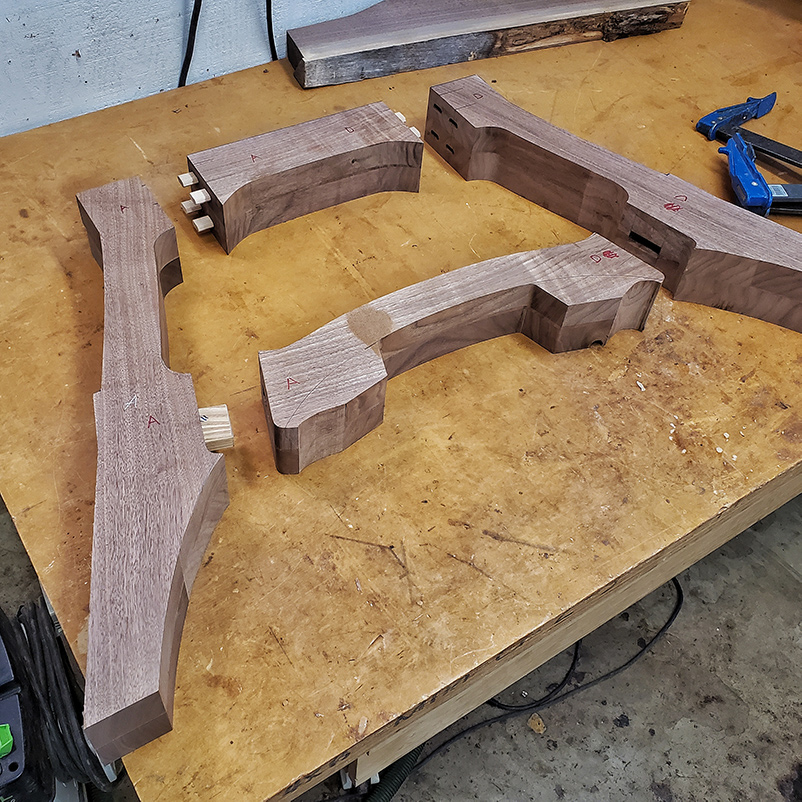 The complex joinery for the Wapiti Table is accomplished through a combination of precision CNC-cut templates and hidden floating tenons
The result is something that is both sculptural and incredibly durable, and these techniques have opened up entirely new design possibilities for us with the Wapiti Table being an example of this.
Crafted from a 150 year old black walnut from Grinnell College campus in Grinnell, Iowa, the Wapiti Table combines a dramatic live-edge top with a sculptural base, rosewood inlay, and heavily relieved edge to create a top that almost seems to float.