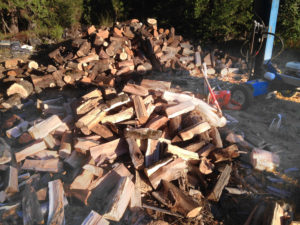 We live in a heavily forested area of the Sierra Nevada. Out our front door of our shop and home we see 5 species of trees that feed us (lumber for furniture), warm us with their firewood, shade our house and provide habitat for 28 species of wild mammals.
The 117 acres that we share with 4 neighbors grows approximately 300 cords of wood each year. Of course most of this is on trees that are lumber trees and ecologically important trees that one would never cut. We use 10 cords of firewood per year for heating our house and shop and conditioning our furniture wood when the solar kiln is not active (winter). We use our wood fired sauna for this latter purpose.
Gathering firewood can be a sophisticated ecological tool when you live in a fire prone climate like ours. Thinning those species that carry a wild fire more readily like incense cedar can be helpful in maintaining a defensible space around our shop and home. Cedar has a very low kindling point of 340 degrees F and ignites more readily than pine or oak. We burn whatever we thin plus some of the dead trees that annually come down from natural causes.
Selecting, cutting, splitting and stacking firewood brings great fulfillment to us as well as providing good physical exercise.
I think seeing where your energy and life support systems come from deepens the sense of sustainability and provides a more clear vision of who we are. We still use diesel to fuel our generator when sun is lacking and we drive long distances at times to show our work to our clientele. We are not "off of the grid" in this sense.
We ask questions about the source of our wood, is it certified? Our Pacific maple is harvested under the Sustainable Forestry Initiative Certification program. Our walnut comes locally from a small boutique sawmill in the Sacramento Valley. Robert Beauchamp operates this mill and we frequently collaborate with him on tree removals from farms and residential houses where people are taking out a hazard or a dead tree. We pride ourselves on knowing where our wood comes from and how it was harvested.
Our solar array provides 80% of the electricity to power our shop and home.
Our business supports local efforts to preserve an old growth component in the National Forest and other public lands as well as on our own land. We along with other neighbors, have spearheaded the experimental management of old forest restoration on 2000 acres of Bureau of Land Management called the 'Inimim Forest.
We have lived in this same place for a long time and we have seen a 1971 forest fire burn 16 acres of our land and have watched the powerful forces of natural restoration take place. We have watched new neighbors move in and log all of the merchantable timber from their land paying no heed to the warning of this act's impact on the spread of invasive scotchbroom. Sustainability is local for us and stands the test of time.
We're a long way from perfecting this way of living. Our 500 gallons of diesel use every year just for the electricity for our 2 wood shops and 3 houses is not ideal. Our long drives to show our work is necessary yet energy consumptive.
As we learn more we will get better and we will adapt.